To create a Virtual Terminal you will first need to locate the Virtual Terminal tab on the menu located on left-hand side of the window. The first time you access this page, you need to create a Terminal. If you have already created a Virtual Terminal but wish to create another one begin by clicking the button labeled Create Terminal located towards the top of the page.
1. Payment Methods
Use the Terminal name field to label your Virtual Terminal; keep in mind that this field has a maximum of 20 characters.
You would then select the payment types depending on what is enabled.

Once you are finished with this section click Next, located at the bottom of your screen.
2. Add Fields
Email and/or Phone number, First Name, and Last Name are required fields. Reference ID, Business Name, and Address are optional. When the 'Prefill default fields' option is enacted, contact details of your choice will pre-fill into the according fields.
Select to either process transactions by entering an email address, phone number, or both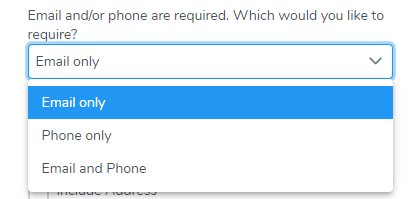 3. Customize Receipt
Decide whether you would like your customers to be emailed a receipt or not by selecting either 'YES' or 'NO' from the drop down menu which follows that question.
You can customize how your emailed receipts will look by including a message, barcode, clickable links, or images. You can set up those features by doing the following:
Check the 'Add custom content to your receipts' checkbox
Once marked, a text editor box will appear where you can enter your custom message, include a link, or insert an image
If you choose to include a scannable barcode to your receipt, simply click on the 'Add barcode to receipts' checkbox
Click the Save button to apply settings to your Virtual Terminal. Now your custom message and barcode will display on your customer's receipts
4. Confirm
You will be asked if you would like to make this terminal your default terminal, if so select 'Yes' and proceed by selecting 'Submit' at the bottom of your screen
Once you have successfully set up the terminal, you will see a congratulatory message
Note: You can make as many Terminals as you need. Simply click 'Create a New Terminal' anytime you need to make a new one. You can also edit a virtual terminal as needed by clicking the 'Edit' button in the bottom right hand corner of the page when you've selected a saved terminal.