Send a "payment request" via email to your customers.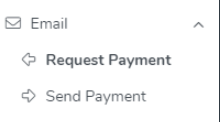 Select the template name you would like to use from your existing options, if one has not been created yet or you would like to add a new option click here to see the steps on how to build a new template.
To send a Request for Payment, click the send email button of the template you would like to use.
Select the contact to would like to send it to, so you can select an existing contact, add contact, or upload a list of contacts.

Once ready, Click Send emails.
When your customers view the email, there is a link they can click on where they will be directed to a secure payment page. The amount they are requested to pay is specified by you.
You can send a single payment request or hundreds at once.