Once you've setup the invoice settings, you'll be able to send out an invoice and have you paid quickly and efficiently.
To send out an invoice, login and go to:
Payment Processing.
Click on 'Invoices'.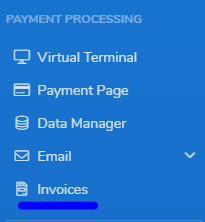 This will bring you to a page to see your invoice history or create a new itemized invoice.
Notice here on your existing invoices, you can click on this dropdown here to resend, mark the invoice as Paid, Void, Download a PDF, edit, or delete invoice.

As these invoices are paid the status will update to 'Paid'.
To start a new invoice, click on the 'Create New Invoice' button.
Choose an existing contact or add a new one (this is who the invoice will be sent to).
If needed, enter a shipping address and choose if you would like to CC or BCC someone on this invoice.
Once a contact is selected, you can add items to the invoice by clicking 'Add Item' and selecting an item you already created.

You can edit the items description, quantity, and rate by clicking on this pencil icon.
The 'total' will calculate based on the total amount of items you have added to the invoice. You can choose to add a tax percentage rate here or a shipping amount if desired.
Any extra notes can be added in the notes section.

Lastly, you can send the invoice to a manager for approval or if you have the correct user permissions, you can send it directly by clicking here and it's off to your customer for payment.