User Email Notification Settings:
Each user has access to enable and disable email notifications.
To edit your email notification settings, navigate to the 'Settings' drop down and select 'User Access'.
Click on the pencil icon next to your desired user, a screen will populate like below: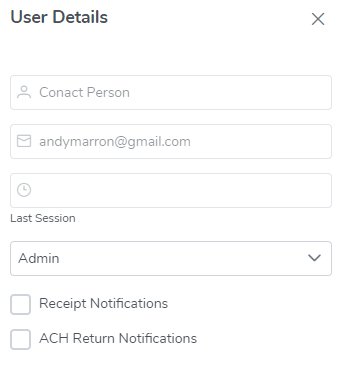 When the 'Receipt Notifications' box is marked, the users email address will be CC'd whenever the customer receives a receipt.
This optional setting lets you retain copies of payment receipts and provides instant notification once a customer has submitted a payment.
If our ACH service is enabled on your account, you will see the 'ACH Return Notifications' box available.
When marked, the user will receive an emailed notification any time an ACH payment gets returned.
Note: If you don't want to receive these emails, unmark the checkbox. Users that have these options marked will receive an email notification.